Ritter Face Frame and Drilling Solutions
In March of 2016, Ritter was moved to Holland, Michigan under new ownership. It will now operate under the name Ritter Machinery Company and will be building the same machinery that Ritter has built for the last 40 years. Initially, we will be building a select group of machines that are listed under the machines menus, but we plan on expanding the line as demand dictates. We will also be able to help current Ritter owners with their spare part needs. Price Below are Valid 2-01-2022 30 days.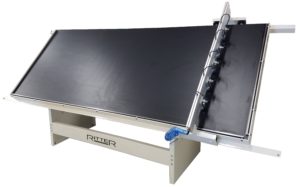 60″ X 144″ EASEL SIZE
45 DEGREE VERTICAL EASEL
SQUARING BARS ON RIGHT, LEFT, AND BOTTOM SIDES
1″ THICK HPL SURFACED TABLE
3″ I-BEAM EASEL FRAME
HOLDOWN BEAM WITH (5) ADJUSTABLE HOLDOWNS
SINGLE SPINDLE DRILL TUB ALSO SHOWN (SOLD SEPARATELY)
Generally In Stock $ 8,590.00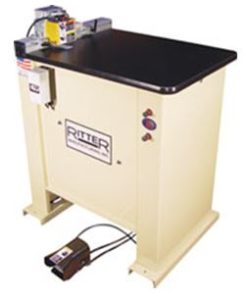 R200T Single Spindle Counterbore Tub
POCKET SCREW ASSEMBLY TECHNOLOGY
SINGLE SPINDLE POCKET BORER
1.5 H.P. SPINDLE DRIVE MOTOR
FOOT ACTUATED BORING CYCLE 110 volts 1 PH.
Generally in Stock $ 6,590.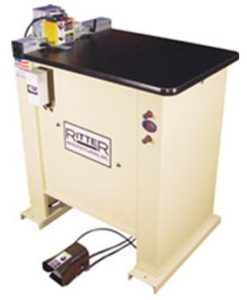 R220T Double Spindle Counterbore Tub
14 DEGREE DOUBLE SPINDLE
1″ SPINDLE CENTERS
6,100 RPM SPINDLE SPEED
1.5 H.P. TEFC SPINDLE DRIVE MOTOR
BALL BEARING COLLET GUIDE BUSHING BLOCK
24″ X 30″ TABLE AREA
ADJUSTABLE FENCE WITH (2) STOPS
FOOT ACTUATED BORING CYCLE
MANUAL CONTROLS
WIRED 1-PHASE 110 VOLT, 60 HZ.
Generally In Stock  R220T $ 7,140.00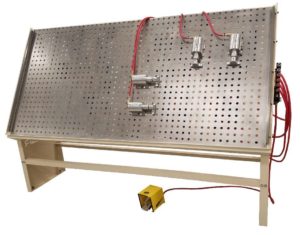 R375V Frame Clamping System
48″ X 96″ EASEL SIZE
45 DEGREE VERTICAL EASEL
SQUARING BARS ON RIGHT AND LEFT SIDES
2″ CYLINDER POSITION GRID PATTERN
3″ BORE CLAMP CYLINDER HOUSING
(6) U300E05 UNIVERSAL CLAMP CYLINDER
PERFORATED STEEL TABLE
MANIFOLD WITH 1/4″ NPT REGULATOR/GAGE
(1) FOOT TREADLE CONTROL – LEG SET
Generally in Stock R375V $ 8,090.00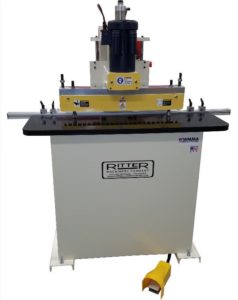 R19F1 Single Row Line Drill
(1) 23-VERTICAL GEAR DRIVEN SPINDLE ROW
32MM SPINDLE CENTERS
10 MM BORED COLLETS
(12) RIGHT HAND, (11) LEFT HAND
3 H.P. SPINDLE DRIVE MOTOR, TEFC
12″ THROAT DEPTH
60″ BACK FENCE WITH (4) STOPS
DUAL BACKFENCE OFFSET STOPS
(2) INDEX PINS
24″ X 48″ WORK TABLE SURFACE
(2) SPRING OPERATED HOLDOWNS
MAGNETIC MOTOR CONTROLS
WIRED 1-PHASE 220 VOLT, 60 HZ.
PNEUMATICLLY DRIVEN CLAMP
BORING CYCLE
FOOT PEDAL ACTUATE
TOOLING NOT INCLUDED
DESIGNED AND MANUFACTURED IN THE USA $ 8,290.00 call for delivery.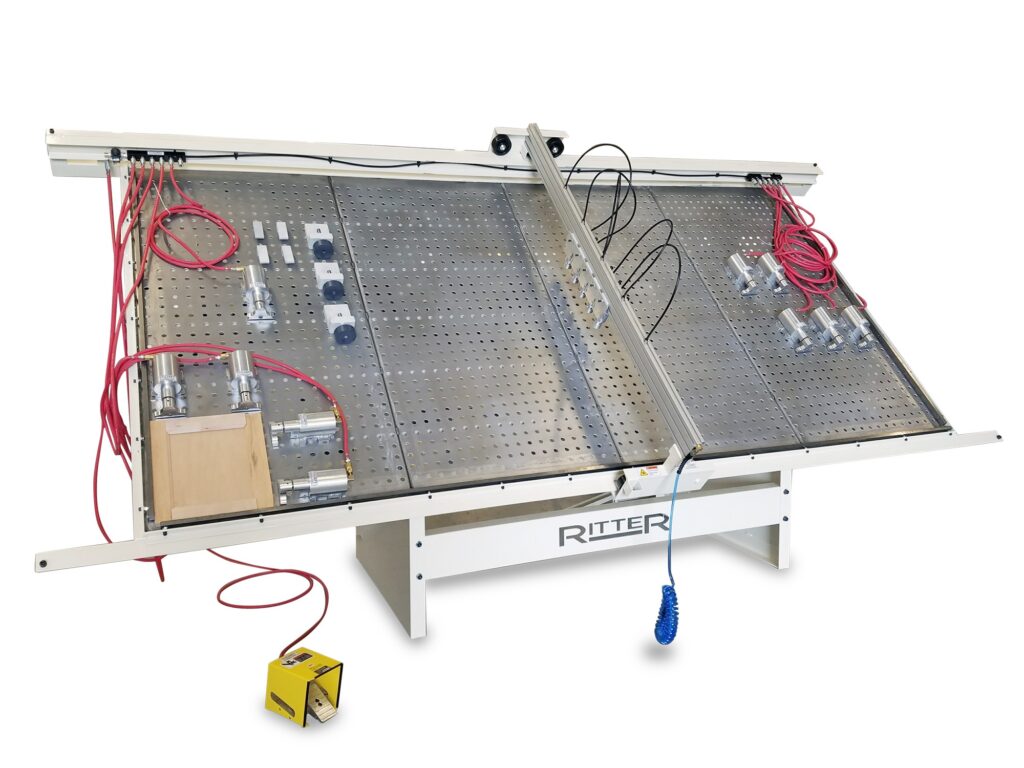 R250 E/A or the R275E/A Mini Framemaster Face Frame & Door Assembly Easel
4'x8′ Assembly Table (5'x12′) also available.
(5) Cylinder Clamp Arm
(10) Universal Clamp Cylinders & Manifold
Foot Treadle
(4) Material Holddown Dog
(3) Adjustable Material Positioning Stops
Designed and Manufactured in the USAtops
$15,290 5'x12′ $ 9,790.00 4'x8′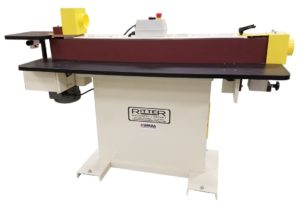 R901 Double Sided Edge Sander
R901 = $6,490 6″x 132″ 3 HP
3 HP Abrasive Belt Drive Motor, TEFC
6″ X 132″ Abrasive Belt Size
(2) 6″ X 49″ Ground Steel Platens
(2) Bias Tilting 12″ X 65″ Worktables
End Sanding Unit with 3″ X 3″ Drum
(2) 4″ Diameter Dust Hoods
Wired 1-Phase 240 Volt, 60 Hz. (3 phase optional R903)
Crated Dimensions: 45″ X 80″ X 48″H and 725 Lbs
Designed and Manufactured in the USA
A taller version of the most popular edge sanding machine, the R901 offers solid reliability with the durability you'd expect from a Ritter machine. This machine has twin tables, and the heaviness of this machine makes it desirable for shops that have high demands on their productivity. Stand this machine up against any of the competition and you'll see the differences.
For more information on this or any of our edge sanders, please call or write us, we look forward to hearing from you! [email protected] or call 214-418-7572