nVision G1 contour Edgebander by SNX Technologies
Contour EDGEBANDING MACHINES by SNX Technologies"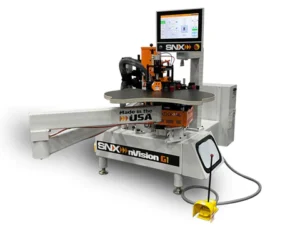 Contour Semi-automatic Edge banding machine with trimming unit, able to process big or small panels.
The SNX nVision G1 (rebranded SNX nVision System1 G3) semiautomatic contour edgebander makes banding shaped parts easy. With an nVision, you will enjoy the tightest butt joints and inside/outside radii in the industry!
An nVision can band work surfaces up to 5′ x 10′ weighing up to 230lbs. You will be able to band .5″ – 2.25″ thick boards with .5mm – 3mm tape.
Forget underpowered manual stations or the expense and continuous training of a CNC contour edgebander. The nVision is easy to operate, easy to set up, and easy to own.
Contact Us for More Information!
https://www.youtube.com/watch?v=7Y8JYtXvh8I
Call Maze LLC today at 214-418-7572