HOLZHER Evolution Series Patent machining center!
CNC Machining Center EVOLUTION 7405-4: Complete CNC Machining in Compact Format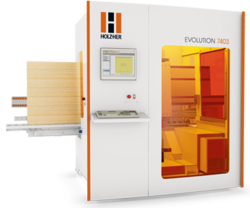 (Only 53 Square Feet of Space) AWARD Winning! The EVOLUTION series offer unique patent-pending solutions for complete processing of your workpieces. Distinguished by well-thought-through industrial design and extremely stable layout.
Unique in its class, the EVOLUTION 7405 4mat offers absolutely precise edge routing on all four workpiece edges and thus complete formatting for panel material.
The technical data for the Evolution series speaks for itself: Workpieces with height up to 920 mm and unlimited length can be processed with the smallest possible space requirements. Material thicknesses of 8 to 70 mm make the vertical machining centers from HOLZ-HER all-round machines for producing everything from drawers to body parts, furniture fronts and rear walls; in short complete machining of all your products. Short cycling times and extreme precision, because workpieces with lengths up to 1,500 mm can be machined without reclamping. The solid design of the EVOLUTION series guarantees you maximum machining quality.
Evolution Video click here or picture! 
User-Friendly  Software: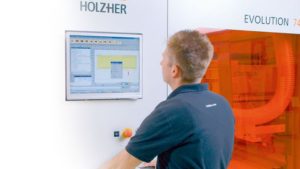 With its Windows-based user interface and a multitude of preprogrammed macros, the CAMPUS software package provides virtually intuitive programming of furniture and construction elements. Even the basic models of our CNC machines include the CabinetControl Base furniture designing and production software, for planning and customer presentation of cabinets and furniture components.
Thanks to the open interfaces on all HOLZ-HER CNC machines, branch programs and CAD/CAM solutions can also be incorporated into your work flow using appropriate post-processors.
Lamello Clamex Connect package for 4-axis machines  & other machining possibilities:
The Connect equipment includes a complete package for vertical CNC machining and cutting Clamex pockets in all four sides and on the surface in the longitudinal and transverse directions.
Click Picture for video!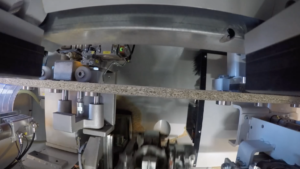 CAMPUS V7 – the high quality, user-friendly machine control from HOLZ-HER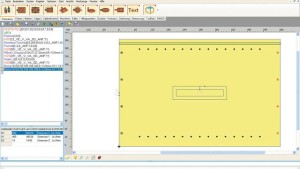 The HOLZ-HER machine control offers state-of-the-art CNC programming and is an integral part of the machine concept. The equipment package includes our comprehensive CAMPUS/NCHops software. This package provides the prerequisites for effective machining and convenient operation. Our ECOMODE automatic standby control is a standard feature on all HOLZ-HER CNC machining centers for software-controlled minimization of the power consumption.
CAMPUS aCADemy is a full-value, high-performance CAD/CAM software package with multiple import possibilities.
In addition to variable programming, 3D views and simulations, the NC Hops editor offers full Z axis interpolation and a text editor.
»Easy Snaps«, adjustable parameters and well-conceived macros additionally simplify and speed up program control.
The work center shows the occupancy of the machine table. Tools, drilling heads and paths are automatically optimized for all workpieces and the machining times are calculated.
The tool manager MT Manager allows clear, graphic set-up using »Drag & Drop«.
The innovative CAMPUS V7 package includes 3D process simulation. The CAMPUS V7 Plus version also includes BetterSim 3D simulation with stock removal.
Open software architecture allows simple incorporation of existing data and connection to a wide range of branch, design and CAD/CAM softwares.